Department
of Pharmaceutical Chemistry
Dr. P. O. Patil
Head of Department
The opportunities in Pharmaceutical Chemistry for high impact discovery and design for human betterment have never been greater. The faculty members of this department are deep-rooted in synthetic, analytical, computational and biochemistry. This faculty helped to forge modern approaches for structure-based drug and protein design, mass spectrometry, NMR spectroscopy and computer-aided visualization of macromolecules.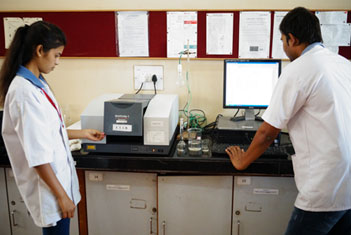 The department is flourished from this base and currently represents world-class knowledge in structure prediction, analysis and interpretation, synthetic and chemical biology. The Pharmaceutical Analysis department is actively involved in Research and Development and consultancy work since 2009 to till date.
In 2009, College has started "Short Courses in Handling Analytical Instruments" a training course to give practical hand to students on different sophisticated instruments like HPLC, GC, FT-IR and UV-Visible spectrophotometer. Till date, more than 50 students were given the training to handle the sophisticated instruments from various locations of Maharashtra.
The department also working for HPLC, FT-IR sample analysis and till date analyzed more than 100 samples from different locations of Maharashtra. The HPLC analysis of natural source, bio analysis, pharmaceutical formulation content estimation, gradient elution of some substances also carried out.