About
Library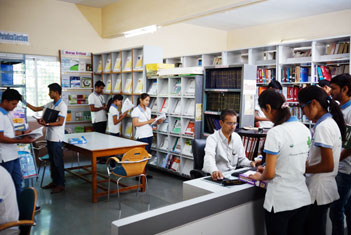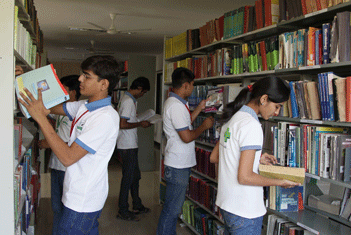 The library is centrally located in the campus, which covers the area of 180 sqft construction.The Library is well ventilated with adequate facilities.It is partially computerized library with Internet facility.
The college library is one of the richest libraries in the area of Dhule Region, having more than 6000 books including Reference books, Pharmacopoeia & encyclopedia, etc.on various subjects.
The college library has subscribed about 53 National & International Journals and periodicals (28 national and 25 international journals) Library has subscribed Inventi International Journals (Pharmacy), 42 E-Journals & also subscribed membership of DELNET (Developing Library Network).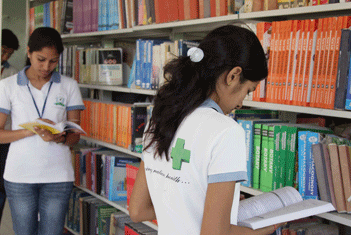 Last five years we are using the computerized system, using LIBSYS Library software, Bar-coding system is also use for circulations, previously it was manual. A big reading room attached with the library having capacity of around 80 students-with a separate seating arrangement for PG students. Reading room is open for 8 hours on working days.
The library also provides Reference Section along with seating arrangement. The library is enriched with number of 65 CDs & 267 Bound Volumes of Back issue of Journals, this helps particularly the teachers, post graduate students and research students.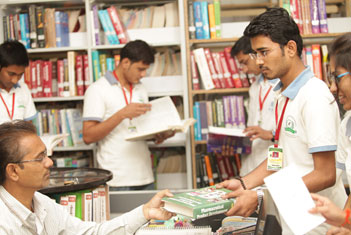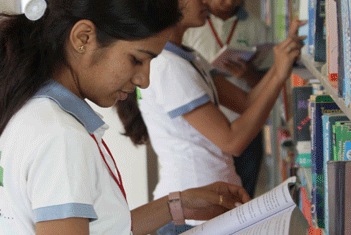 There are four computers in the library, which are used for monitoring the accession of books, Stock verification and Issue system. The Internet with broad band facility is available for the Staff members and student; Book Bank Facilities are also available for Students.
There is open access system for the teachers and the post graduate and research student accompanied by teachers and guides. The central library is open from 10.30 am to 5.30 pm on all working days including vacations.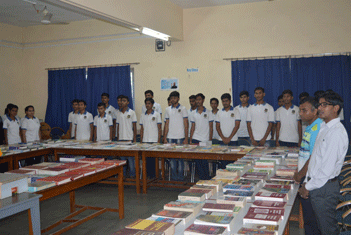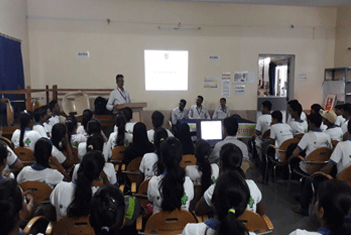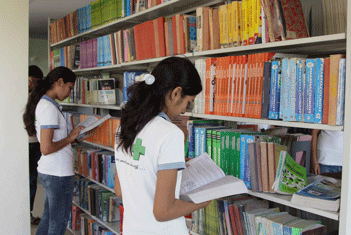 Features
of Library
On-line Public Access Cataloguing (OPAC) system is available in library. From 2004 the data entry of the

books are prepared. Such books are bar-coded & available for the users

LIBSYS Software is installed in the library and the Data Entry is Completed all Books purchase for Library.
The Reading Room is open for 8 Hrs. on all working days.
The Internet With broad band facility is available for the staff members and the students.
Book - Bank Facilities is also available for Students.
Library has large number books. But when syllabi are changed; library weeds out the number of books to

keep the library update.

To maintain to smooth and efficient functioning of the Library, library committee is set-up every year and

according to their suggestions the library function.
Library
Staff
| Name of Employee | Designation | Qualification |
| --- | --- | --- |
| Mr.Vinod H. Patel | Librarian | B.Sc. M.Lib. |
| Mr. Pravin D. Ishi | Assit. Librarian | B.A. M.Lib. & I.Sc. |
| Mr. R. T. Mahajan | Library Peon | M.A. |
Library
Committee

(2020-21)
| Sr. No. | Name of members | Designation | Mobile no |
| --- | --- | --- | --- |
| 1 | Dr. S. B. Bari, Chairman | Principal and Professor | 9423918023 |
| 2 | Mr. S. K. Patil, Incharge, Member | Assistant Professor | 8275036261 |
| 3 | Mr. V. H. Patel, Secretary | Librarian | 9423516803 |
| 4 | Mr. Y. D.Mahajan, Member | Student | 8007220016 |
| 5 | Ms. Y. H. Vispute, Member | Student | 9307740411 |
| 6 | Mr. D. P. Gosavi, Member | Student | 8625879728 |
| 7 | Ms. R. P. Patil, Member | Student | 7218371307 |
| 8 | Mr. V. S. Chaudhari, Member | Student | 9960257303 |
| 9 | Ms. H. A. Chaudhari, Member | Student | 9881733972 |